Entrepreneurs and business owners from the private sector had an opportunity to learn more about the economic benefits of greening their businesses and the financing options available in Seychelles for achieving such.
This was through a short seminar organised by the Seychelles Chamber of Commerce and Industry (SCCI) in collaboration with Seychelles' Conservation and Climate Adaptation Trust (SeyCCAT).
The aim of the seminar, held at the STC conference hall on Friday evening, was to inform the business leaders of the opportunities for finance to 'green' a business and to enlighten them on the role of the private sector in enabling a healthy planet.
Chairperson of SCCI, Oliver Bastienne, welcomed all present in a brief address in which he urged them to make the most of the financing opportunities available through SeyCCAT.
He also introduced the two distinguished speakers for the event, chief executive officer of SeyCCAT Angelique Pouponneau and director of the Centre for Climate Finance and Investment at Imperial College Business School and Principal Teaching Fellow in the department of management, Charles Donovan.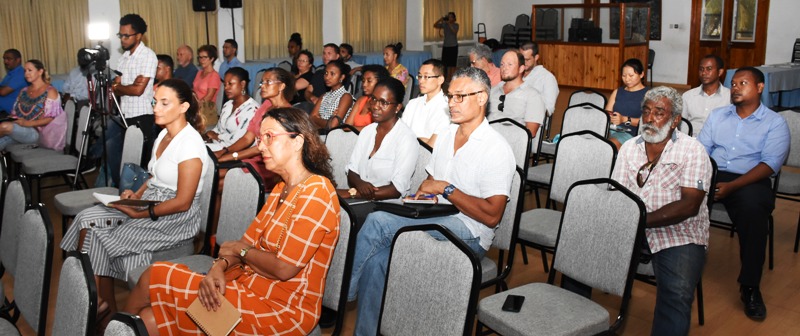 Ms Pouponneau facilitated a presentation detailing the financing opportunities available through her institution, a project donor whose mission is to invest in ocean stakeholders to generate new learning bold action and sustainable blue prosperity in Seychelles.
She explained that SeyCCAT disburses small-medium grants up to R100,000 and large grants between R100,000 and R1 million, under the Blue Grants Fund (BGF), to business organisations and parastatals that have legally existed for a minimum of one year.
She noted however that SeyCCAT has only received one such application from a business organisation thus far.
Ms Pouponneau also covered the application and processing procedures and timeframes and encouraged business owners to go green for a sustainable future for Seychelles' ocean, islands and people.
"We want businesses to start rethinking, what can we do differently? Rethinking how business is supposed to take place whether it is businesses whose basis is the environment such as tourism or fisheries but even those who are heavy on tech," Ms Pouponneau stated.
Dr Donovan covered the ways in which business organisations can change businesses to make it greener and the role of the private sector in the efforts towards a healthier planet.
He detailed the importance of greening business supply chains and presented the findings of several studies which highlight the economic benefits of sustainable and green business organisations.
"I was shocked to learn that 93 percent of Seychelles' electricity supply is from diesel. There are various opportunities," Dr Donovan said as he talked about solar energy.
He noted that there has been an exponential rise in solar energy consumption in newly advanced economically developed countries including Brazil, Russia, India, China and South Africa (BRICS) and that solar energy is the cheapest way to build a power station.
Dr Donovan also explained other simpler methods to make businesses more sustainable, for instance by reducing waste and opting for recycling as well as choosing more environmentally-friendly practices.
All in attendance were given an opportunity to raise questions and queries.